Arts & Culture Legacy
For over a hundred years, Provincetown has welcomed artists, poets, writers, playwrights, and curators to its community.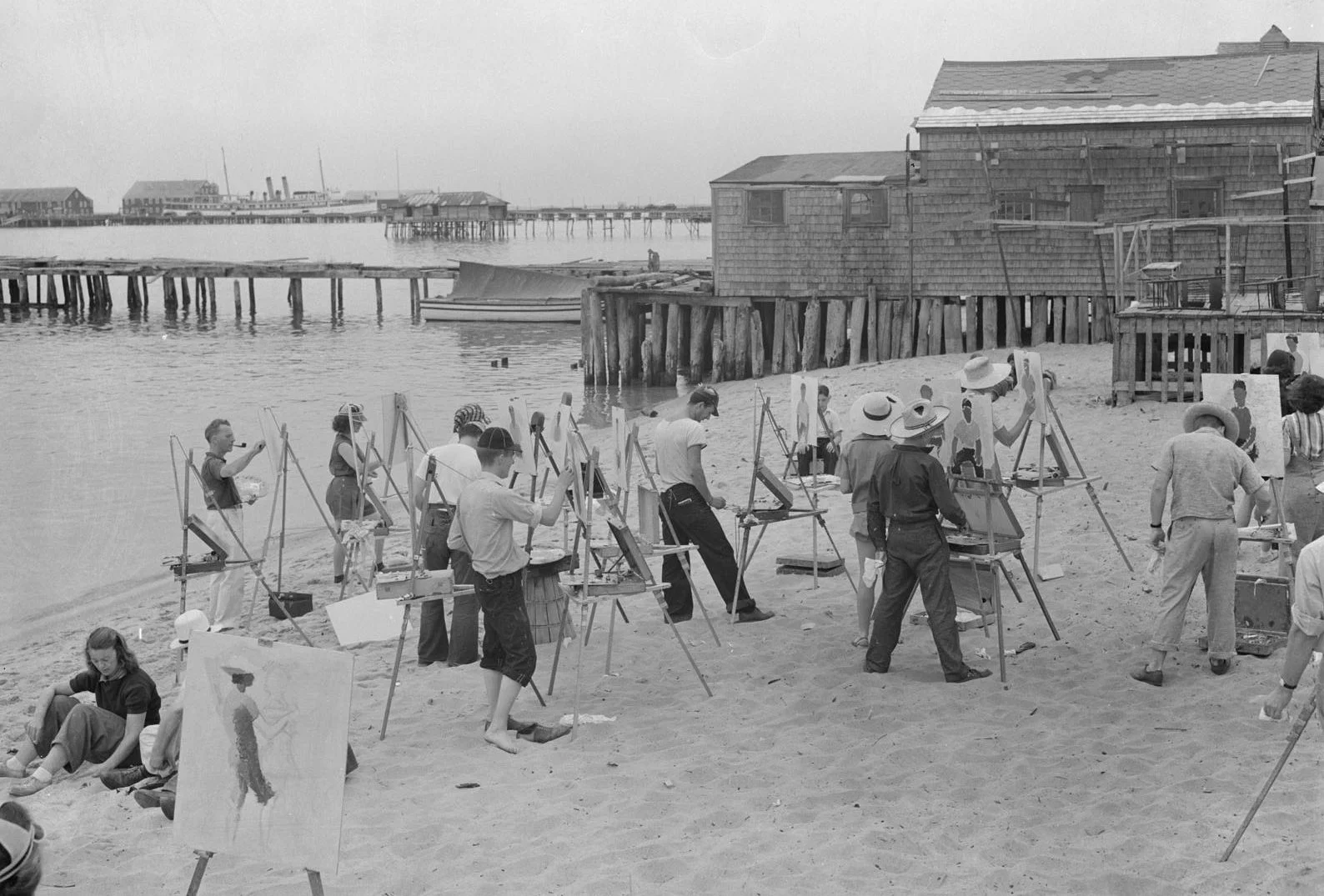 America's Oldest Continuous Art Colony
Provincetown is America's oldest continuous art colony. For over a hundred years, Provincetown has welcomed artists, poets, writers, playwrights, and curators to its community. The Provincetown Art Association and Museum (PAAM) might describe the arts legacy in Provincetown best:
"Provincetown has welcomed, nurtured and inspired artists . . . not just to create, but to connect with the town and its people. . . . Life in Provincetown has for the past 100+ years been charted by the interactions between these two groups — from destitute artists trading paintings for lodging . . . to fisherman offering a share of their day's catch to provide a meal for an artist who might otherwise go without, to the walls of local cafes and homes lined with artwork given in exchange for simple kindnesses."
Art & Culture History in Provincetown
America's Oldest Continuous Art Colony
1900s
Art Schools Reshape Provincetown
Provincetown's art schools are the cornerstone of its art community. When Charles W. Hawthorne opened the Cape Cod School of Painting in 1899, he set the town on a new path. His school quickly attracted a community of writers and artists, who paid just $50 for a summer session. By 1916, the Boston Globe cemented the town's reputation when it declared, "Biggest Art Colony in the World in Provincetown." Later, the abstract expressionist Hans Hofmann opened another major art school, which he ran as a summer program. Hofmann already had an international reputation as an artist and teacher, and his classes and critiques drew vacationers and well-known artists alike, including Jackson Pollock and Mark Rothko. Today, a number of organizations continue to offer classes and workshops in town year-round, including the Cape School of Art, the Fine Art Works Center, and the Provincetown Art Association and Museum.
1916
Provincetown Players Launches Careers
Provincetown Players was a new community theater when it helped launch the careers of Eugene O'Neill and Susan Glaspell. Inside an old fishing shack, O'Neill presented his first play, Bound East for Cardiff, about a dying sailor aboard a tramp steamer.
Four years later, O'Neill would go on to receive his first Pulitzer Prize. Though the Provincetown Players had moved to Greenwich Village by then, O'Neill still used Provincetown as fodder for his works—and he didn't always play nicely. He and Provincetown's librarian Abbie Putnam were long at odds, and he took literary revenge by naming the adulterous title character in Desire Under the Elms after her. (This character also murders her own child.) Later, O'Neill wrote Ile, a one-act play inspired by the town's story of Viola Cook, who, people said, went insane during a voyage to the Arctic. Glaspell, meanwhile, was already an established novelist before joining Provincetown Players. She launched her career as a playwright with the celebrated play Trifles.
1900s TO TODAY
Galleries and Museums
As Provincetown's art scene grew, it was only natural that museums and galleries would follow. The Provincetown Art Association and Museum (PAAM) began showcasing local works more than 100 years ago, and has since expanded to include more than 3,000 works by artists who have lived or worked on the outer Cape. In 2006, it added a new wing to display the works of artist members.
The local gallery scene, meanwhile, gained traction in 1949, when a gallery hosted acclaimed lectures and the first major showing of abstract expressionism in the country. High-quality galleries and artists' cooperatives sprang up in the decades that followed, and several renowned New York galleries opened branches in town. In the late 1960s, a gallery showing in Provincetown could be crucial to an artist's career. Today, visitors still flock to galleries during the summer months, where they'll find works by local artists displayed alongside works by artists from New York.
Explore Art and Culture in Provincetown
"Ptown is such an artist community—and there is no artist in me—but the minute your feet touch the ground there, you are an artist. It's amazing for even one day to be a part of that feeling."