Transportation
Provincetown is surprisingly easy to get to with multiple options that will work with your budget,  travel time, and what time of year you plan to visit.
Transportation to Provincetown
For the most up to date parking information for when you are in Provincetown, visit the Town of Provincetown's website.
Provincetown is surprisingly easy to get to with multiple options that will work with your budget,  travel time, and what time of year you plan to visit. Travel + Leisure explains transportation in Provincetown perfectly:
"You can come by plane, boat, and automobile, the latter is great for getting around, though parking is difficult in town."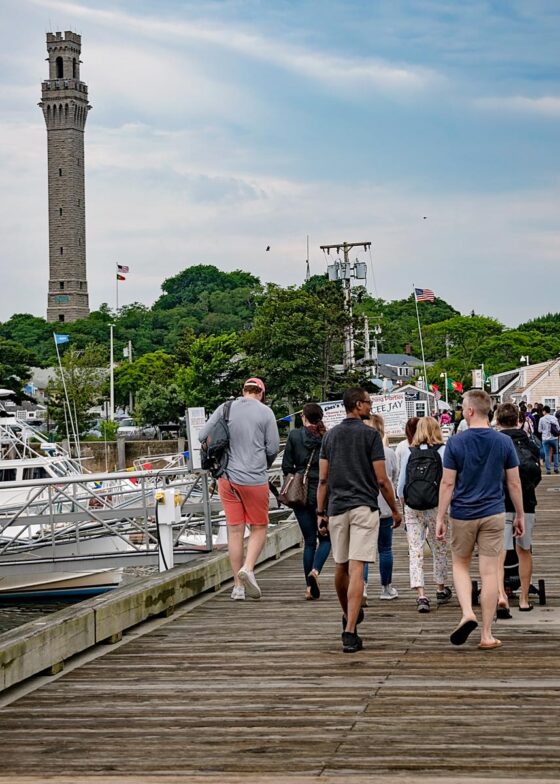 Boston to Provincetown Ferry
Riding a Boston to Provincetown ferry helps you avoid Route 6 traffic while giving great views of Cape Cod. The Provincetown Ferry and Provincetown Fast Ferry are among the most popular options for going from Boston to Provincetown. The Provincetown Ferry and Fast Ferry, also known as the Salacia and Provincetown IV, are only 90-minute rides. Boston Harbor Cruises and Bay State Cruise Company own the ferries respectively. 
Departure, Arrival, & Hospitality
The Provincetown Ferry leaves from 1 Long Wharf, Boston and arrives at Macmillan Wharf, Provincetown. The Provincetown Fast Ferry leaves from 200 Seaport Blvd. in Boston and arrives at the same location. Both offer food, drinks, and personnel ready and willing to help plan your stay. Riders can expect to see views of the Boston skyline to the docks, lighthouses, piers, and possible whale action, as they approach Provincetown. The two ferries run from May to October every year with the Provincetown Fast Ferry offering extended schedules between October and December. It's highly recommended by resources such as Travel + Leisure to book trips in advance during the summer season.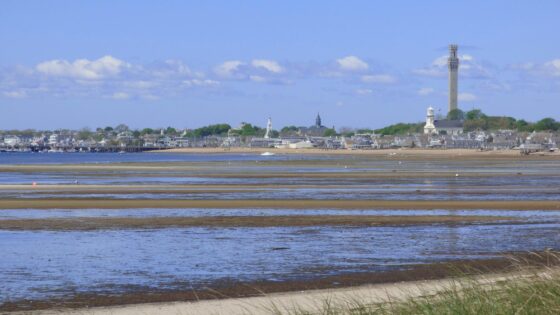 Air Travel
Prefer the skies to get to Provincetown? The Provincetown Municipal Airport (PVC) offers enhanced access throughout the year.  Just 10 minutes to the Town's center, PVC welcomes leisure and business travelers from across North America.  Cape Air and Jet Blue offer expanded service between Provincetown and Logan International Airport in Boston, MA and from the Westchester County Airport in Westchester, NY.
Driving In Provincetown
For information about parking in Provincetown, please visit the Town of Provincetown website.
Provincetown transportation is pretty direct if you're driving. Provincetown's main road is Route 6, which can be a road trip by itself according to Getaway Mavens. If you're coming from the south use I-195 via Providence, Rhode Island to get to Route 6. Drivers can also get to Route 6 through I-495 by going north or west. If you're going through Boston Route 3 eventually connects to Route 6. Driving to Provincetown from New York City takes approximately 6 hours and Boston 2 1/2 hours.  It might be a good idea to relax on the beach after such a long drive.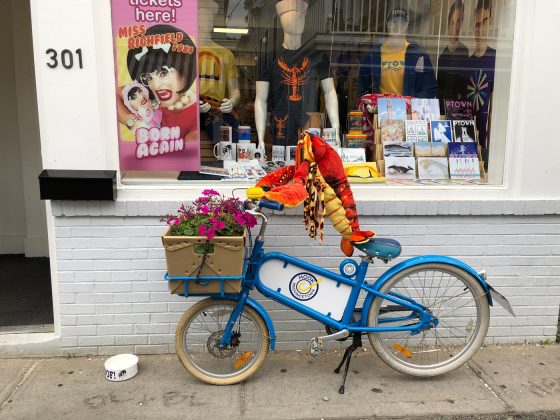 Biking in Provincetown
Bikes are a great mode of transportation on Provincetown's narrow streets and bike-worthy trails. Provincetown is convenient for bike-riders due to the abundance of trail maps and biking routes available throughout the town.
Renting bikes is easy to do in Ptown and there are locations from the center of Town to the West End.
If you prefer someone else to do the peddling for you, you can take a Pedicab around Town!  Commercial Street Pedicabs offers guided tours, a ride back to your hotel when your shopping bags are full, or to a romantic ride for two enjoying a beautiful sunset.
Bus Service in Provincetown
There are ways to travel when it comes to Provincetown transportation aside from driving a car or riding a fast ferry. You can also get to Provincetown by taking the bus. According to the Provincetown Chamber of Commerce, Provincetown is accessible via Peter Pan Bus Lines, which provides bus service to Provincetown and other parts of Cape Cod. More information about shuttles and other seasonal transportation can be found on the website for  Cape Cod Regional Transit.
Tired of rushing to catch the last bus of the night out of Provincetown? Wish you could get an early morning ride to PTown? Well, now you can! The Cape Cod Regional Transit has an expanded schedule with early morning arrivals and late departures between Orleans and Provincetown seven days a week beginning Thursday May 18, 2023.  Follow this link for the schedule and stops CLICK HERE!
"When you drive up the Cape and go to the point—all the other stuff has left you. By the end of the drive, you are someone different. You're in a totally free environment."